Official Real Estate Company of the Boston Red Sox
"From your first home to your dream home"
Achievements
Over $100 million in lifetime sales volume serving both buyers and sellers.
Community Involvement
Cohasset Elder Affairs
Singer for events at the American Legion and the Sons of the American Legion Post 118
Cantor at St. Anthony's Parish- Cohasset
Chaperone for Razzel Dazzel Special Travel

Personal
Born and raised in Cohasset and currently raising 3 children in this beautiful coastal community with her husband Joe. Lilly is the owner of the legendary JJ's Dairy Hut-Ice Cream shop, an icon in the community since 1956. Woven into the fabric of her hometown through her unwaivering commitment to many local events and charities. She is also the beloved singer for many weddings and funerals at St. Anthony's Parish as well as the Cantor for the church.
Areas Covered
South Shore
Niche Marketing
I specialize in navigating the complexities of the development process from advising during planning to site visualization which leads you to your dream home.
Professional Association
National Association of Realtors
Mass Association of Realtors
Plymouth and South Shore Association of Realtors
Multiple Listing Service
Lilly was tireless in promoting our home for sale. She is professional and always available and her expertise of the market was invaluable to us. Lilly and her associate, Siobhan, were a pleasure to work with! Carrie G. (Hingham, MA)

Service was absolutely amazing. I truly believe without our realtor we wouldn't have sold our house as fast as we did or have gotten the house we are in the process of buying. Harold J.L. (Cohasset, MA)

Lilly was able to network through other agents and find the right buyer for my mother's home after she passed away. This was an emotional experience as well and she gave us g ood advice and encouragement along the way.

put my house on market for two months in 2014n -deal fell through - contacted agent in spring 2015 and she was connected to another agent from another company who remembered the house and contacted my agent - agent, Lily Sestito worked it out and it went extremely smoothly - never put it back on th... Laurie Kiely (Cohasset, MA)

There are no words to explain the incredible service my husband and I received from Lillian Sestito. She went above and beyond anything I could have hoped for. Especially since my husband and I work crazy hours, she always was there to help with anything and everything that needed to be done. I w... Gina Achin (Cohasset, MA)

Lilly was an excellent agent. Her communication with all parties was exceptional and she was delightful to interact with. She was an integral part of our process. Eileen T. (Scituate, MA)

Lilly Sestito was the primary reason we selected Raveis Real Estate. I did not know her personally beforehand, but she was recommended to us by someone in our family. She was very knowledgable and had a clear vision of how to market the property to get the quickest sale and maximize the price. She s... Red Gate Lane (Cohasset)

Lilly was a pleasure to work with. She was always available and knew exactly what we were looking for. Her assistant Shiobhan was also a great asset! Both are friendly, knowledgeable and professional! They made a stressful time so much easier to bear! Carrie G. (Hingham, MA)
More Testimonials ›
Your Insurance Rep.
Christine McBride
Insurance NPN#
Cell - 339.832.1759
Email Insurance Rep. ›
Insurance Quote ›
Your Loan Officer
Charlene Reese
NMLS Mortgage Loan Originator ID 241312
Cell - 774.608.0909
Email Loan Officer ›
Loan Quote ›
$8,500,000
63 Nichols Rd,
Cohasset 02025


Sold Date: 10/24/2018
$7,100,000
369 Jerusalem Rd.,
Cohasset 02025


Sold Date: 12/31/2019
$1,725,000
3 Tad Ln,
Cohasset 02025
5 Beds, 3 Full / 1 Half Bath(s)

Sold Date: 3/30/2018
$1,315,000
440 King St,
Cohasset 02025
4 Beds, 3 Full / 1 Half Bath(s)

Sold Date: 9/9/2019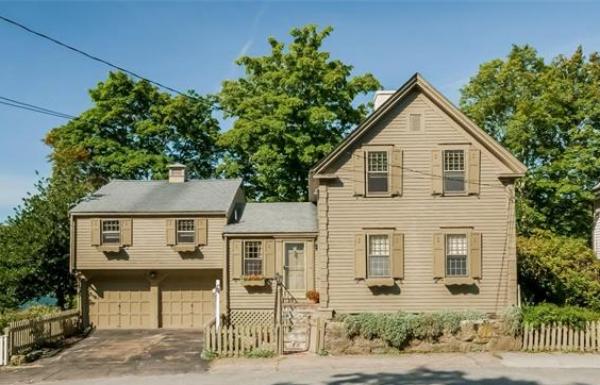 $1,231,250
99 Border St,
Cohasset 02025
4 Beds, 1 Full / 1 Half Bath(s)

Sold Date: 7/15/2015
$1,160,000
40 Ledgewood Dr,
Cohasset 02025
4 Beds, 3 Full / 1 Half Bath(s)

Sold Date: 2/25/2020
$1,000,000
445 King St,
Cohasset 02025


Sold Date: 11/30/2018
$930,000
24 Hillside Dr,
Cohasset 02025
4 Beds, 2 Full / 1 Half Bath(s)

Sold Date: 2/14/2020
$885,000
14 Conroy Terrace,
Scituate 02066
4 Beds, 2 Full / 1 Half Bath(s)

Sold Date: 12/20/2016
$850,000
20 Crocker Ln,
Cohasset 02025


Sold Date: 1/11/2018
$850,000
479 Beechwood St,
Cohasset 02025
3 Beds, 4 Full Bath(s)

Sold Date: 8/4/2017
$775,000
2 Ocean Ave,
Scituate 02066


Sold Date: 7/12/2018
View All Sold Listings